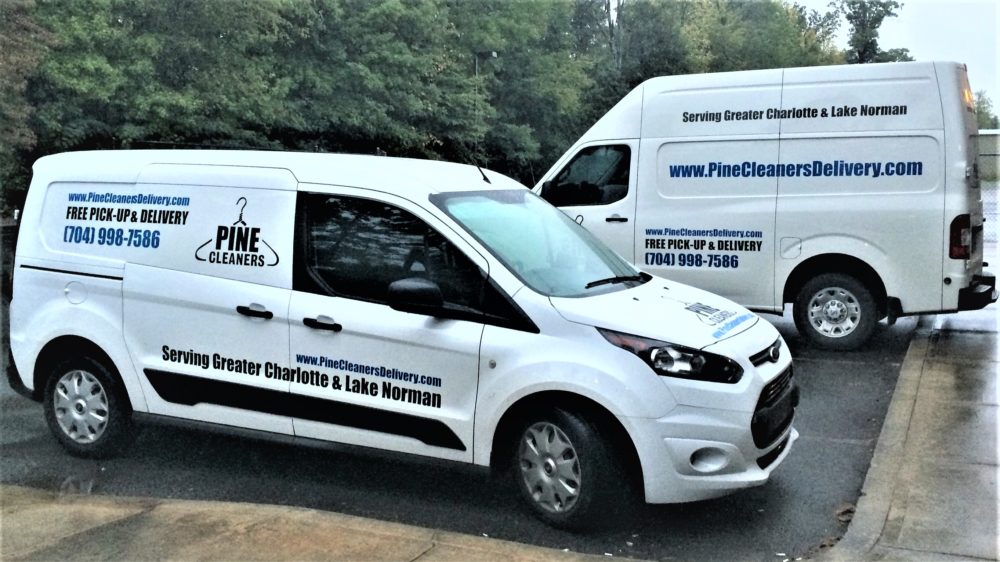 At Pine Cleaners, our top priority is caring for your clothes as if they were our own. With us, your clothes receive an extra level of care, as our laundry services are done 100% in-house — no outsourcing is found anywhere, from cleaning to pick-up and delivery. We want you to make the most of your free time, which is why we add pick-up and delivery services for free. All you have to pay for is the same clothes cleaning you would at any other dry cleaner.
Laundry Pick-Up and Drop Off for Lake Norman and the Greater Charlotte, NC Area
We are a dry cleaner that picks up and delivers to various towns and cities around Lake Norman and the Greater Charlotte area. Our service area spans some of our favorite cities, including:
Not sure if your area is within our coverage? Contact us anyway, and we'll see what we can do. We frequently go out of our way to ensure you get the laundry delivery services you need when your schedule is tight.
Laundry Delivery Made Simple
Pine Cleaners' goal is to get your laundry done on your time. We don't believe in subscription models — we simply come when called to handle your clothes! Gone are the days of waiting for the perfect time to do laundry. Any day can be that day in five easy steps:
Request: Start by using our Pick-up and Delivery Request Form to give us some basic information about yourself and your pick-up location.
Reply: We'll answer your request within one business day to finalize our pick-up and delivery schedule. We'll either assign your laundry to our Monday & Thursday schedule or our Tuesday & Friday schedule. Laundry pickups can be made on either of your two assigned pickup days!
Pick-up: On our specified service date, we'll pick up at your home, office, or whatever location is easiest for you for added flexibility. We'll give your laundry its own branded bag, free of charge, with your name and unique barcode on it to avoid any mix-ups.
Relax: While we have your laundry, feel free to go about your day however you please. Take this newly freed time to relax and have some downtime, or maximize your efficiency by getting other work done while you wait for our return.
Delivery: We'll bring back your items on time and on your next Service Day. If we picked up your laundry on a Monday, then we'll deliver it by Thursday, and vice versa. The same goes for those on our Tuesday & Friday Schedule!
Our Top-Quality Laundry Services
Our pick-up and drop-off laundry services are available for everything we offer, including:
Laundry Delivery Services on a Reliable Schedule
While we don't offer a regular subscription service, we do provide a set schedule for our pick-up and delivery laundry service. We'll come by up to two days per week on what we call "Service Days."
When you sign up for your first laundry pick-up, our team will tell you which two days of the week are your Service Days. We currently have two schedules: a Monday & Thursday schedule and a Tuesday & Friday schedule. If you're on our Monday & Thursday schedule, we will pick up your laundry on Mondays, Thursdays, or both! If you are on our Tuesday & Friday schedule, we will pick up your laundry on Tuesdays, Fridays, or both! We'll let you know the specific pick-up time the day before so you can plan your schedule accordingly. Your Service Days are also the days when freshly cleaned laundry will be returned. Our average turnaround time is your next Service Day. Having this consistent and reliable laundry schedule makes planning your week so much easier and gives you greater control over your schedule.
No Subscription Required — Use as You Need It
Many other laundry services require you to sign up for costly monthly subscriptions. Even worse, some make you pay even when you aren't using the service. At Pine Cleaners, we believe that you should only pay as you use our services. If you don't require our services for the week, don't feel like you need to put something out. You won't be charged for not using our services and can still keep your set Service Days.
Have only one laundry pick-up for the week instead of two? No problem! You won't be charged for only using one of your two Service Days either. Simply contact us to schedule your next laundry pick-up for one of your next Service Days.
Take Back Your Time Today
When you take laundry out of your schedule, you have more time for the things that matter, whether that's hanging out with the people you love, pursuing your hobbies, or spending more time on the job. Schedule your pick-up and drop-off laundry service today, or contact us with any questions.