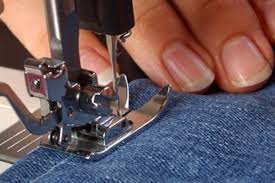 Simple Clothing Repairs and Alterations
If your clothing requires repairs or adjustments, an alteration specialist can help. Pine Cleaners' in-house clothes alteration services will save your garments without you ever lifting a finger. We'll even pick-up and deliver your items to your home or office, or you can bring them to our physical store, if you prefer. From pants repair to hem alterations, we'll take care of it all for you.
Our Simple Alterations and Clothing Repair Services
While our main focus is to make your laundry clean and ready for wear, we also have an Alterations Specialist on staff who is ready to take on all your basic garment repair and alteration needs, such as:
Pants and dress hemming
Button replacement
Zipper replacement
Seam repair
Formal clothing and dress repair
Household item repair
The best part of our services is that you don't even have to be there in person. Save valuable time and energy by sending your alterations to a team that will care for your clothing items from the moment you drop them off until you receive them back a few days later.
Service Areas for Simple Alterations and Clothing Repairs
Pine Cleaners is proud to serve a large portion of North Carolina, stretching our service area to towns and cities in and around:
Concord, NC | Cornelius, NC | Davidson, NC | Denver, NC
Charlotte, NC | Huntersville, NC | Kannapolis, NC
Mooresville, NC | Sherrills Ford, NC | Troutman, NC
Even if you don't see your area listed above, we may still be able to serve you. Contact us to learn more about when we'll be coming to your area.
Clothing Alterations in Five Easy Steps
Say goodbye to shopping for that perfect button or trying to figure out how to use your grandmother's prized sewing machine. With Pine Cleaners, altering your clothing is easier and doesn't require any thread, needles or tape measures. Here's what you do:
Fill out the Pick-Up and Delivery Request Form.
Wait for our response to learn your Service Days — whether they're Mondays and Thursdays or Tuesdays and Fridays.
Put out your clothes so that we can place them in a branded bag with a unique barcode. Your clothes will stay with your clothes, and only your clothes.
Relax, work or do anything you like with your extra free time.
Pick-up your clothing at the designated drop-off point on your next Service Day, altered and ready for wear.
Need a faster turnaround time on your item? No problem! Contact us and we'll gladly work with you to get your items returned to you as quickly as possible.
Schedule Your Service Today
Signing up with Pine Cleaners makes clothing alterations easier than ever, extending the life of your clothing and allowing you to save time while doing it. Schedule your free pick-up and delivery today or contact us with any questions.
Frequently Asked Questions About our Alteration Services
How do alterations and garment repairs work with pick-up and delivery?
Items you would like altered or repaired can be placed in the same bag as your dry cleaning and laundry items. Simply attach a note to the item you would like altered or repaired, noting what you would like done to the item. On the note you can simply say things like "1-inch hem", or "replace pants zipper", and our alterations specialist will take it from there. For alterations such as hems, you are more than welcome to take your own measurements and pin the item yourself.
If you have any questions or would like to provide us with more detailed instructions, please feel free to call us.
Will someone come to my home or office to take my measurements?
Currently, Pine Cleaners does not offer in-person measurements for our pick-up and delivery customers.
Can I visit your physical store in Huntersville and have my measurements taken there?
At this time, Pine Cleaners does not offer in-person alterations at our physical store in Huntersville. However, you are still more than welcome to bring your alteration items to our Huntersville store.