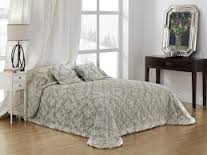 Linen and Bedding Laundry Services — Comforters, Sheets, Drapery and More!
At Pine Cleaners, washing clothing is only a small part of what we do. We're ready to clean all your home essentials, including bedding, drapes, tapestries and more.
Try out our bedding laundry services, which include our popular Comforter Special — give us your favorite fluffy comforter, and we'll pick it up, clean it and return it for just $18.00!
Looking to clean your drapes too but can't seem to fit them in your washing machine at home? Our professional drapery cleaning services are the perfect solution. We have extra-large washing machines at our facility, perfect for cleaning oversized household items like drapes. Look no further for all of your home linen cleaning needs. Choose Pine Cleaners today to save time and enjoy professionally cleaned items.
Cleaning Services for a Wide Variety of Household Linens and Textiles
Over time, fabrics collect dust, dirt, dead skin and bacteria, and they require a firm, experienced hand to get as clean as possible. Our bed linen laundry services can take care of all your:
Bedspreads
Blankets
Comforters
Drapes
Duvets
Napkins
Stuffed animals
Tablecloths
Tapestries
Window treatments
And many more articles. Even if your item isn't on this list, we may still be able to clean it! Contact us to see if we can take on your other specialty home items.
Professional Linen Cleaning Services Near You
Our North Carolina service area spans some of the most remarkable communities in the area, including cities and towns in and around:
Concord, NC | Cornelius, NC | Davidson, NC | Denver, NC
Charlotte, NC | Huntersville, NC | Kannapolis, NC
Mooresville, NC | Sherrills Ford, NC | Troutman, NC
Our customers frequently take us beyond these places, so if you're nearby, call and see if we can come to you even if you don't see your city listed above.
Fresh, Clean Bedding and Linens in Five Steps
Whether you have no time to clean or your washing machine isn't made to handle heavy, fragile loads, choose Pine Cleaners for our simple solution. Follow these basic steps for our bedding laundry service to make your home a cleaner place to live:
Start by filling out our Pick-Up and Delivery Request Form.
We'll assign you to Service Days — either Mondays and Thursdays or Tuesdays and Fridays.
On your next Service Day, we'll pick up your laundry and place it in a free branded bag with a unique barcode.
Take advantage of your free time while we take care of your laundry.
We'll deliver your clean garments right to your home or office on the following Service Day.
Request Comforter Washing Services Today
Choosing Pine Cleaners' free pick-up and delivery services saves time and money and makes doing your laundry easier than going to the laundromat. Schedule your services today or learn more about how our blanket cleaning services work by reaching out through our contact page.