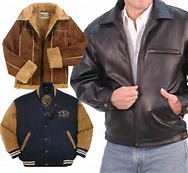 Leather Dry Cleaning for Clothes and Handbags
Leather products like jackets and handbags are staples in most closets because of their beauty and durability, but even they require cleaning. When your favorite leather items are in need of washing, trust them with Pine Cleaners. We're a team of experienced professionals with significant experience in the special cleaning practices leather accessories require.
Our leather clothing cleaning services come with free pick-up and delivery, making it easy for you to treat your expensive leather goods the way they were meant to be treated. We'll care for your clothing as if it were our own from the minute we pick it up until it's back home in your hands.
Popular Leather Items We'll Clean
At Pine Cleaners, we're ready to take on any leather article, from clothing to belts, handbags and other accessories. Below are some of the most common items we receive.
Leather Jackets
Our professional leather jacket cleaners will make sure every inch of your classic leather jacket is treated right so that you can continue enjoying it until you can't wear it anymore.
Designer Handbags and Purses
A good handbag often has small pockets and features that make it your favorite accessory but also tend to collect dust and dirt. When you choose our leather purse cleaning service, we'll use specialty tools that allow us to detail fine work and gently wash away dirt, debris and material buildup inside and out.
Other Leather Clothing Items and Accessories
We can also clean a range of other leather items at our shop, including:
Shirts
Pants
Belts
Wallets
Motorcycle or work gear
Sports equipment
Reasons You Need a Professional Leather Dry Cleaner
Cleaning leather using traditional washing methods can lead to premature wear and your leather drying out and cracking. Even some dry cleaners send leather items out to specialty cleaners. At Pine Cleaners, we know how to handle these items through our tested cleaning process, making your leather as good as new without any damage.
Our Service Area for Leather Clothing Dry Cleaning
Our service area covers various cities and communities:
Concord, NC | Cornelius, NC | Davidson, NC | Denver, NC
Charlotte, NC | Huntersville, NC | Kannapolis, NC
Mooresville, NC | Sherrills Ford, NC | Troutman, NC
If you don't see your area listed, contact us to see if we can still assist you. We're always expanding our service area, and we want to help people like you love their leather again!
How Our Pick-Up and Delivery Process Works
Cleaning your leather is easy when you have Pine Cleaners on your side. All you have to do is:
Fill out the Pick-Up and Delivery Request Form.
Wait for our reply assigning your Service Days.
Let us pick up your laundry in its own branded bag — we never clean your laundry with anyone else's.
Go about your day without thinking about laundry.
Wait for us to deliver your cleaned leather back to you on your designated delivery day!
Schedule Your Free Pick-Up Today
With our free pick-up and delivery services, you can focus on more important and enjoyable things while we take care of your leather. Schedule your first pick-up today or contact us to learn more about our cleaning methods.